Fun Kids operate a suite of products for children aged six to twelve and the broader family.
We broadcast a nationwide children's radio station on DAB Digital Radio to over 500,000 people each week, have a well visited website at funkidslive.com, are the biggest podcast network for children in the UK, and have a well developed video operation and a range of social media for children and parents.
As an advertising-funded business, we create solutions for clients and agencies in the kids and family sectors. Our clients include, amongst others, Hachette, Smyths Toys, Playmobil, Bonnier, Pengiun Random House, Target Live, Usborne, Bloomsbury, Simon & Schuster, Home Agency, 7Stars, RadioWorks and Booments.
Due to a recent internal promotion we are looking to recruit an additional member of the sales team to take on a business development role with some account management of existing clients.
You'll be excited to:
Be a brand champion for Fun Kids focusing on business development from agencies and clients direct
Build profitable commercial relationships with agencies and clients
Demonstrate a thorough knowledge and understanding of the advertising market and the role Fun Kids plays within it
Actively seek new leads
Be a team player at all times and work closely with the project manager to manage campaigns where required
Use internal systems to accurately record information and forecast
The ideal candidate will be someone who:
Has proven successful sales experience in a media sales role that involves cold calling
Worked with, and comfortable using Sales CRM systems
Strong presentation, verbal and written communication skills
Comfortable multi-tasking and taking on new challenges
Proficient in Microsoft Office
Has excellent attention to detail
An interest in family brands and/or radio would be advantageous
What are we after?
You'll be a key part of our sales operation, so you'll need drive, determination and plenty of ideas.
Contacts in the radio sales and family sectors will obviously be an advantage, but a demonstrable successful approach to sales is the most important quality.
At the centre of Fun Kids is a radio product, but we also sell digital display, podcast, sampling and event activity – so specialists in any of those areas are also welcome.
You'll be supported by the Head of Sales and the Fun Kids Station Manager.
What it's like working for us?
A team of ten, plus seven presenters, work on Fun Kids with a further ten people working alongside them on other projects, from our Holborn office/studios.
Sales-wise the team's time is split between client direct work (particularly books, toys, home entertainment clients) and servicing the ad agency groups. Like any advertising business, the work is a combination of keeping existing clients happy, bringing on new ones, and coping with the revolving door of agency contacts – making sure the new people know what a good job we've done for their predecessors!
As we're not part of a traditional radio group there are both pros and cons. Pros are that we're fleet of foot, quick with decision-making and can design truly flexible, creative solutions for our customers. The cons are that we don't have a massive sales floor or the 'must carry' status of a campaign with Global or Bauer.
As a focused team we're more flexible on how people work and the job will evolve to reflect the skills of the employee.
Our staff tend to stick around longer than at other places, but when they do leave they go on to great jobs at large radio groups and kids media owners.
The basic salary will be commensurate to your experience alongside a strong commission package.
Application
To apply for the job send a covering letter explaining how your skills are relevant to this role alongside a CV, to sam@funkidslive.com.
Closing date: End of play, 11th August 2019
About Fun Kids
Fun Kids started as a London digital radio station in 2009, but since then has grown into a suite of products that reach children and families.
The radio station is now nationwide – broadcasting on 'D2' – the Sound Digital national multiplex. With over 300,000 kids tuning in across the UK (TGI Youth) and 80,000 listeners in London (RAJAR) the broadcast station continues to go from strength.
Programming-wise it's focused on 6 to 12 year olds (with some younger programming – Fun Kids Junior – when the older kids are at school). The station is a music station with a bunch of young presenters producing entertaining radio alongside factual speech features.

As well as nationwide on digital radio, listeners tune in on the website, the app, aggregators like TuneIn and Radioplayer and on smart speakers (just ask your device to Play Fun Kids!)
As an audio specialist we do pretty well in podcasts – we're the biggest provider of kids podcasts in the UK, generating over 150,000 downloads a month. Plus, our Fun Kids Science Weekly has two British Podcast Awards nominations this year.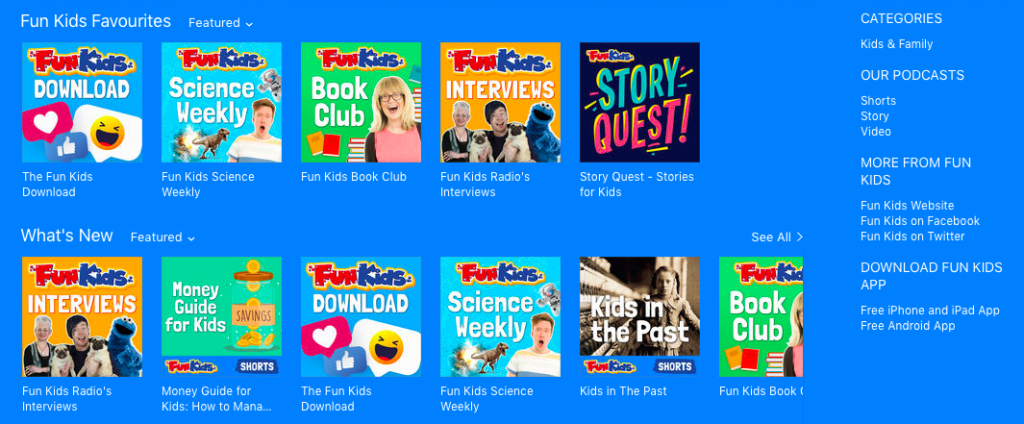 With lots of content on-air and through the podcasts, the Fun Kids website has become a well traffic'd website for children and families generating over 350,000 pageviews a month.
We also try and get out and about. The station appears regularly at events like Kidtropolis. Kids can get on our bus and be superstar DJs in our special bus studio.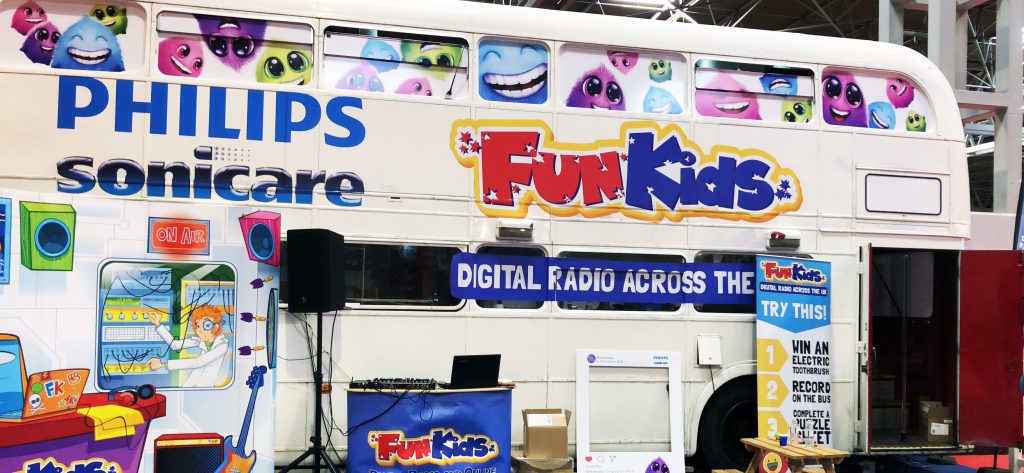 Last year we also created a live stage show which had a 26 show run at the Edinburgh Festival. At Easter, this year, the show was performed to a sell-out crowd of 500 at the Underbelly on Southbank.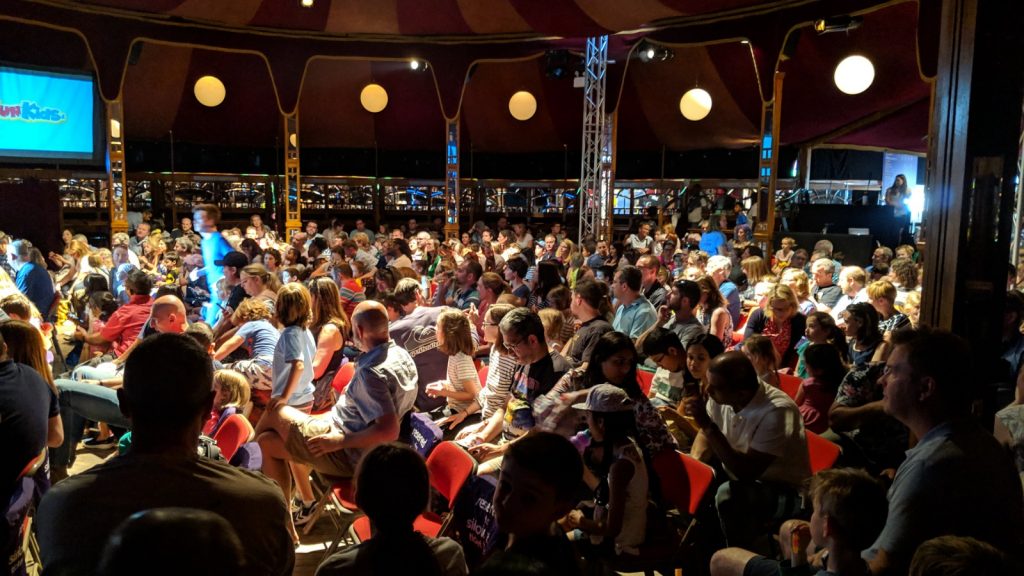 Getting out and about also means we've had another product to sell to advertisers – sampling opportunities in our goodie bags!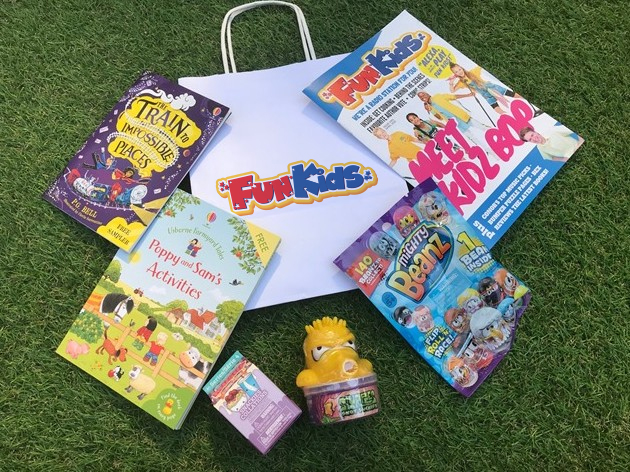 Our Office
This is the Fun Kids side of the office, scroll around and take a look.