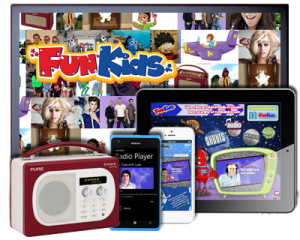 Fun Kids has a big presence across a number of digital platforms
Radio
500,000 kids and parents listen to Fun Kids each week. We broadcast on DAB Digital Radio nationwide, are available to listen to online worldwide and on the Fun Kids Radio App.
Competitions
Competitions are a key part of our Fun Kids campaigns, we currently generate over 10,000 competition entries each month and share opt-in data capture with our clients.
Website
The Fun Kids website has seen over 100% growth over the past 12 months.
Here are our latest (May 2020) monthly online figures:
162,000 Users
702,000 Pageviews
There's also over 500,000 instances of listening (stream starts) each month.
Parents Newsletters
We have a database of over 14,500 parents who we send the Monday Mention and Friday Five newsletters weekly. Plus, we have a database of 14,000 school professionals.
YouTube
Fun Kids operates 12 YouTube channels:
Collectively we have over 250,000 views a month.
Podcasts with iTunes
Fun Kids is an iTunes partner which means we get enhanced promotion of our channels – which now number over 80, making us one of the largest providers in this space. Our podcasts, which are both audio and video, have over 800,000 downloads each month.
Fun Kids on PopJam
Fun Kids is one of the most popular profiles on the PopJam mobile app. Over 145,000 children follow Fun Kids, interacting with our posts and suggesting questions when we interview top celebrities like LEGO Batman.